News & Events
>
Home
>
News & Events
>
February ICARE Winners Announced
February ICARE Winners Announced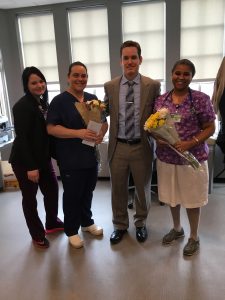 Earlier this month we awarded our February #ICARE Winners.
Indira Hernandez was selected as our Monthly #ICARE winner who has been a care partner at Elmhurst for 18 years and Marie Saint Louis is an LPN that has been a great addition to Elmhurst since January. (In photo from left to right: Brianne Dupuis, ADON, Indira Hernandez, Care Partner, Monthly ICARE winner Garrett Sullivan, Administrator, Marie Saint Louis, LPN Weekly ICARE winner)
To learn more about our current Career Opportunities, please click here.