Home
>
News & Events
>
Congratulations March ICARE – Spotlight – Felicia Howard, Care Partner
Congratulations March ICARE – Spotlight – Felicia Howard, Care Partner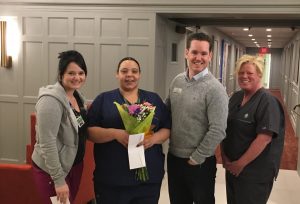 Felicia Howard was nominated as our March Monthly #ICARE winner by her fellow peers!
She has been a full-time Care Partner at Elmhurst for over 2 years. She is a real team player and we are fortunate to have her!
(In the photo from Left to Right: Brianne Dupuis, ADON, Felicia Howard, Care Partner, Garrett Sullivan, Administrator, Kate Brown, DON)
To learn more about our current Career Opportunities please click here.