Matt Weinstock, Administrator, is originally from Brooklyn, NY.  He earned his B.A. from Brooklyn College and a Masters in Public Health Care Administration, Maxwell School, Syracuse University, NY.
He is a licensed skilled nursing home administrator in New York, California, Texas, Florida, Massachusetts and Rhode Island. Matt served on the Board of Leading Age in Massachusetts for six years.
With over 30 years experience in long term care ranging from roles as administrator, regional manager and Chief Operating Officer, he prefers to be an administrator where he can form a bond with his staff, the elders and the community.  To sum it up Matt said, "Senior living is my passion."
---
Denise Boarman, Director of Nursing, was born in Fall River, Massachusetts. After graduation from Catholic High School, she entered Bristol Plymouth Technical School, Taunton, MA where she became an LPN. After working in a variety of nursing positions for 8 years, Denise went to Bristol Community College and earned her RN degree. Denise's 30-year nursing career has encompassed acute hospital settings, adult disabled workshops and long term care settings. She has served as a unit manager, Staff Educator, MMQ Nurse, MDS Nurse and Director of Nursing at various sites. While as a nurse at the workshop setting for disabled adults, Denise served on the Ethics Committee.
Denise loves her job and finds it rewarding helping someone daily no matter how little it is. She enjoys the interaction with the patients and wants to "make them comfortable and this their home".
---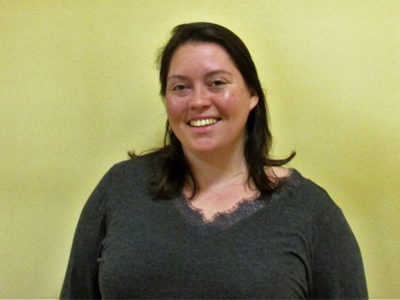 Christal Jones, Assistant Administrator, was born and raised in Massachusetts. She earned her B.S. in Healthcare Management from Elms College, Chicopee, MA. While in college she worked at Norwood Hospital in patient access and then admissions. She was part of the TIMI, cardio vascular research for Brigham & Women's Hospital, Boston, MA. Christal returned to Norwood hospital as Department Manager of patient access. She joined Elmhurst in 2015 as Director of Operations.
She describes herself as a natural caregiver who loves to help people and ensure they get the care they deserve.
---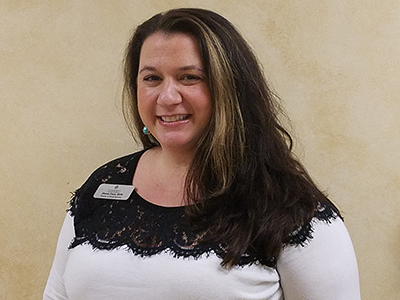 Sharon Fusco, Director of Social Services, is a native Rhode Islander.  She earned her Bachelors of Social Work as well as her Masters of Social Work from Rhode Island College.  After working for the Department of Elderly Affairs, 14 years ago, Sharon did an internship in long term care at Elmhurst and has remained ever since.  In addition, she leads the Eden Alternative Committee and the Celebration of Life Program.
She is an adjunct professor at Rhode Island College; Vice President of the RI Healthcare Association for Social Work; member of the Charter Care Ethics Board; and in 2009 was Social Worker of the Year for RI.
Her calling to this work is to improve quality of life for seniors in Rhode Island.  She wants to be a leader to facilitate culture change and acceptance.
---
Amybeth Dunphy, Director of Admissions, was born and raised in Rhode Island. She earned a B.A. in Justice Studies from Rhode Island College. Her family owned a skilled nursing facility in Pawtucket which Amybeth grew up in and started working there at the age of 14. The family started her in the dietary and laundry departments. She continued working there all through college. Amybeth eventually transitioned to the admissions department and became a District Director of Sales & Marketing for a national nursing home chain in the Boston market. Most recently she was a specialist in central admissions for a national company and was based in Needham, MA.
Amybeth stated she has always liked working with the elderly and knew from a young age that this was the business she wanted to be in.
---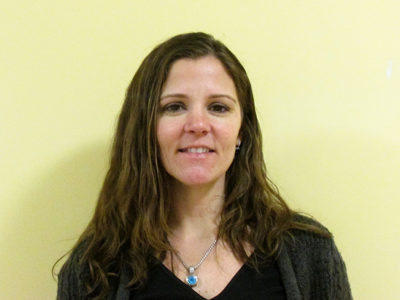 Emily Smith, Director of Rehabilitation, is a native Rhode Islander.  She earned a B.A. in Communication Disorders and Psychology from Rhode Island College.  Her M.S. is in Speech Language Pathology from Emerson College, Boston, MA.  She is Vital Stim Certified and a Mentor in the Eden Alternative Program.
She has worked as a Behavioral Specialist and done Music Therapy with Children, been a traveling speech therapist in Tennessee and North Carolina.  While in Tennessee, Emily was a rehabilitation director in long term care.  Returning 4 years ago, to her native state, she began work at Elmhurst as the Director of Rehabilitation.
Emily does what she does as "It is a most rewarding field to help people become stronger and better.  As a leader, I ensure my clinicians have what they need to have successful outcomes with satisfied and happy patients."
---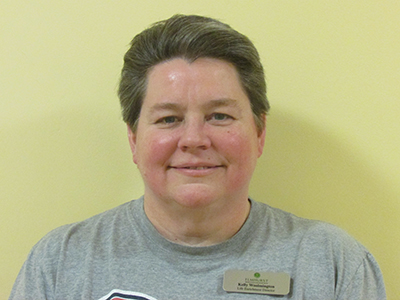 Kelly Woolmington, Director of Life Enrichment, was born in Ohio and has lived in numerous states and resided in Rhode Island for the last 20 years. She earned her Associates Degree in Animal Science from Ohio State. Over the years, her jobs have been multifaceted – receptionist, computer programmer, baker and day care operator. 20 years ago, she entered long term care as an activity director. Kelly is certified as a National Activity Director and is a Nationally Certified Dementia Practitioner. She is also a member of MASCAP – Massachusetts Council of Activity Professionals.
When asked why she choose this line of work, Kelly replied, "I love the population and want to make a difference. I want this to be homelike and the elders deserve the best we can offer them".
---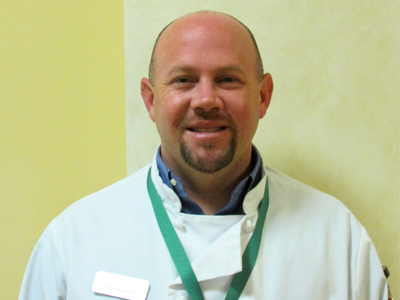 Christopher Ziegler, Director of Dining, was born in New Jersey. His life and career has taken him to Florida, Delaware, Maryland, Montana, California, Connecticut and now Rhode Island. Chris served 4 years in the Air Force. His 11-year career has been in hospitality and culinary ventures. He began his work in commercial restaurants. Later shifting his focus to work with seniors in independent living, assisted living facilities, memory care facilities and now in the skilled nursing facility setting. Chris holds a Servsafe Certificate.
Chris loves his job because he gets to help people who need help and can't do certain things for themselves. As he stated, "I want to help put a smile on their face."
---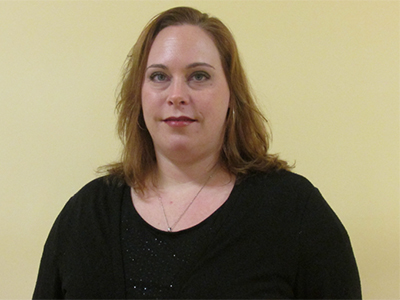 Susan Miller, Clinical Liaison, was born and raised in Rhode Island. She has an Associates Degree in Liberal Arts from Community College of Rhode Island and is a Medical Administrative Certified Assistant, Katharine Gibbs College. Susan began her career in long term care at age 16 beginning in the dietary department. She has progressed through the ranks from dietary, to receptionist, to unit secretary, to data entry MDS and med sheets then to Director of Admissions. She then became a specialist in central admissions for a national nursing home company and recently joined Elmhurst. Susan is active in the Lions Club. Her commitment is to helping people and seeing positive outcomes.
---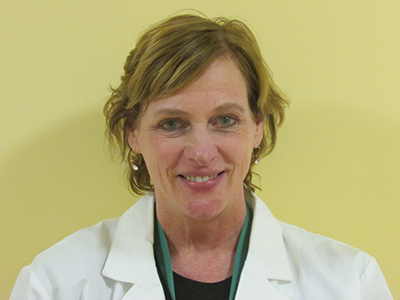 Mary Anne Bilbo, Respiratory Therapist, was born and raised in MA. She graduated from Laboure College in MA as a Respiratory Therapist. Her work history is 35+ years in hospital settings.
She is licensed in RI and MA. Also certified ACLS and BLS. Mary Anne is affiliated with the National Board of Respiratory Care and American Association of Respiratory Care.
Mary Anne enjoys direct patient care and improving quality of life for her patients.